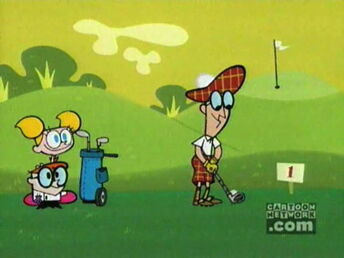 A Third Dad Cartoon is the second part of the 9th aired and 10th produced episode of the third season of Dexter's Laboratory. It originally aired on June 21, 2002. 
Plot
On a sunny day, Dad takes his children to a golf course. He prepares to hit the golf ball with a good swing. Just as he is about to hit the ball, a thunderstorm suddenly moves in. He calls it a day and goes home with Dexter and Dee Dee.
Characters
Trivia
Notes
This episode marks the third time where Dexter doesn't have any speaking roles, the first being DiM and the second being A Silent Cartoon.

This is also Dee Dee's second episode that doesn't feature any speaking roles.
Errors
Cultural References
Episode Connections
Dad was seen playing golf in the later episode "Tee Party".
Production Notes
It was the third cartoon about him training golf, but it takes too long while it rains. This episode it's aired out of production order.