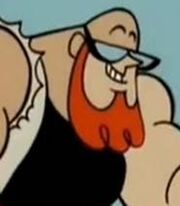 Action Dexter is Dexter's Future Self as an adult. He has big muscles and can fight like a man. He is pure epic. He can operate and control weaponry which he uses to fight evil in the dark future where Overlord Mandark rules over the world.
Appearance
Action Dexter is a big muscular man who has an orange beard and glasses. He wears a black shirt and a white ripped lab coat. It's revealed he has gone bald and that Old Man Dexter was actually wearing a wig.
Trivia
He still has Dexter's accent.
He is the only one of Dexter's future selves that has not been seen in any other episodes besides Ego Trip.
He and Action Hank have many similarities and traits.
Action Dexter, unlike the other Dexters, was not voiced by Christine Cavanaugh. He was voiced by Jeff Bennett instead.
Ad blocker interference detected!
Wikia is a free-to-use site that makes money from advertising. We have a modified experience for viewers using ad blockers

Wikia is not accessible if you've made further modifications. Remove the custom ad blocker rule(s) and the page will load as expected.