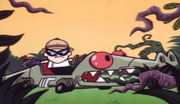 The Alligator Lawnmower is a large riding lawnmower in the shape of an alligator that was created by Dexter for yard work. While quite strong when chomping down plants, it appears to have its limits as its teeth broke down when fighting Mom's Garden which was mutated by the Botanical Booster. It then proclaimed that it needed to find a dentist. It was voiced by Frank Welker.
Ad blocker interference detected!
Wikia is a free-to-use site that makes money from advertising. We have a modified experience for viewers using ad blockers

Wikia is not accessible if you've made further modifications. Remove the custom ad blocker rule(s) and the page will load as expected.