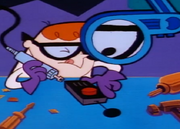 The Animal Atomizer is an invention that can change people into different kinds of animals. It was seen in the episode Changes when Dexter and Dee Dee got in a fight over it changing each other into animals.
Animals
Bunny
Frog
Pig
Wildebeest
Orangutan
Ostrich
Hamster
Tiger
Cow
Walrus
Penguin
Camel
Vulture
Snake
Whale
T-Rex
Beaver
Chicken
Bear
Goat
Hippopotamus
Elephant
Bird
Panther
Crab
Octopus
Monkey
Turtle
Snail
Ad blocker interference detected!
Wikia is a free-to-use site that makes money from advertising. We have a modified experience for viewers using ad blockers

Wikia is not accessible if you've made further modifications. Remove the custom ad blocker rule(s) and the page will load as expected.