Asgard is a realm where the viking deities reside. Unlike their ancient counterparts, these asgardians are rock 'n roll-loving party goers dressed in punk-style outfits with viking helmets, and throw parties full of drinks, golden apples and rock music, making it look more like a casual biker club than an ethereal realm.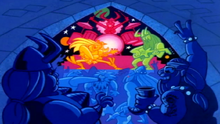 Valhallen is allowed access into Asgard due to his status, although it is unknown if he is a native or simply a mortal who was chosen by them, but whenever he shows up, the parties are truly gnarly and filled with the most tubular tunes. The only confirmed inhabitants are the bodacious Valkyries who are quite fond of Valhallen, as most women are, as well as many unnamed asgardians.
Trivia
William Goat is also allowed access into Asgard, likely due to being Valhallen's steed and main transport into the realm.
Valhallen's room seems to exist in an alternate plane, presumably in the same realm as Asgard.
Ad blocker interference detected!
Wikia is a free-to-use site that makes money from advertising. We have a modified experience for viewers using ad blockers

Wikia is not accessible if you've made further modifications. Remove the custom ad blocker rule(s) and the page will load as expected.