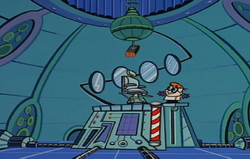 The Beard-A-Tron is a machine invented by Dexter to give him different kinds of synthetic facial hair. It was used only in the episode "Beard to be Feared" by Dexter to give himself a beard, in the hopes that it would make him more rugged. Unfortunately, he is mistaken for his hero Action Hank and forced to battle a ring of Flour Smugglers, with the aid of the actual Action Hank.
Function
The user of the Beard-a-tron lays back in a barber's chair while a laser (that resembles a pair of clippers) fires a hair growth beam at the user's face. The machine can give Dexter any style of beard he wants by generating artificial synthetic hair on his face which can be styled into any shape with the aid of a device resembling an electric razor which shines an orange light on the user's face.
Beard Options
Ad blocker interference detected!
Wikia is a free-to-use site that makes money from advertising. We have a modified experience for viewers using ad blockers

Wikia is not accessible if you've made further modifications. Remove the custom ad blocker rule(s) and the page will load as expected.