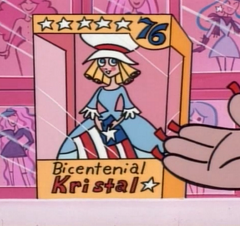 Bicentenial Kristal is a rare and valuable Darbie doll released in 1976 which is highly valued by Darbie Collectors who prefer to keep her in mint condition NRFB (Never Removed From Box). She first appeared in "Star Check Unconventional".
In the episode, Dexter and his friends sought some "bilithium crystals" to power their warp reactor. A Darbie trader overheard them talking and thought that they were looking to buy an unopened Bicentenial Kristal from her stand. McBoy then believed the doll to be a small humanoid who had been imprisoned in suspended animation for centuries and so ruthlessly opened the box, thus invoking the anger of the trader and her fellow Darbie Collectors who proceeded to punish the boys in combat.
Ad blocker interference detected!
Wikia is a free-to-use site that makes money from advertising. We have a modified experience for viewers using ad blockers

Wikia is not accessible if you've made further modifications. Remove the custom ad blocker rule(s) and the page will load as expected.