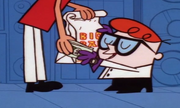 Burrito Palace is a restaurant chain that primarily serves burritos. Their most delicious attraction appears to be the Big Bad Burrito which Dexter appears quite fond of. It was first mentioned in "Critical Gas" where Dexter ordered a Big Bad Burrito which gave him a terrible case of gas.
Ad blocker interference detected!
Wikia is a free-to-use site that makes money from advertising. We have a modified experience for viewers using ad blockers

Wikia is not accessible if you've made further modifications. Remove the custom ad blocker rule(s) and the page will load as expected.