Buzzard
Profile
Aliases
Red Vulture
Gender
Male
Species
Human
Affiliations
The Scavengers (henchmen)
Occupation
Super Villain
Interests
Pharaoh's Heart Ruby
First Appearance
Dyno-Might
Voiced By
Rob Paulsen
Buzzard is a super villain and an updated version of the Red Vulture from the 1970s Hanna-Barbera cartoon Dynomutt, Dog Wonder. He is the archenemy of the Blue Falcon and his sidekick Dynomutt. He appeared in the episode Dyno-Might, where he tried to steal the Pharaoh's Heart Ruby and dealt a near-fatal blow to Dynomutt, forcing the Blue Falcon to seek out Dexter's aid to save him.
Appearance
He is a tall and lanky man who wears a vulture-themed costume with gray boots and gray bird claws on his hands.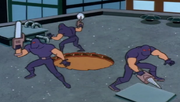 Ad blocker interference detected!
Wikia is a free-to-use site that makes money from advertising. We have a modified experience for viewers using ad blockers

Wikia is not accessible if you've made further modifications. Remove the custom ad blocker rule(s) and the page will load as expected.