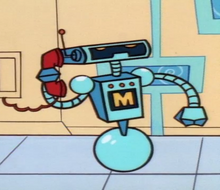 CM1129 is one of Mandark's many servant robots who aids in the maintenance of his lab and answers his phone calls. It appeared in the episode "Let's Save the World You Jerk!" and was voiced by Frank Welker.
Appearances
Episodes
Comics
Ad blocker interference detected!
Wikia is a free-to-use site that makes money from advertising. We have a modified experience for viewers using ad blockers

Wikia is not accessible if you've made further modifications. Remove the custom ad blocker rule(s) and the page will load as expected.