The
Creepy Eyed Neighborhood Girl
is a nameless and silent young girl who, as her name suggest, has very big blank puppy eyes that always seem to stare right into one's soul and causes others incredible discomfort.
She only appeared in the episode
Aye Aye Eyes
, where she fell in love with
Dexter
after he brought back her Bunny Doll, Dexter subsequently ignored her repeatedly but was forced to pretend to be her boyfriend after she threatened to reveal his secret laboratory to the public. She (with the help of
Dee Dee
and Dexter) eventually finds a new love with a
boy
who had the same creepy eyes as her.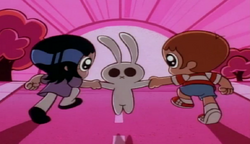 Ad blocker interference detected!
Wikia is a free-to-use site that makes money from advertising. We have a modified experience for viewers using ad blockers

Wikia is not accessible if you've made further modifications. Remove the custom ad blocker rule(s) and the page will load as expected.