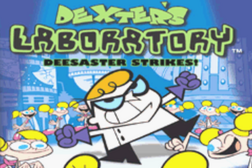 Dexter's Laboratory: Deesaster Strikes! is a video game released on September 16, 2001 in the USA and November 2, 2001
in the UK. This game features Dexter and Dee Dee.
Format game covers
Dexter's Laboratory: Deesaster Strikes is available in the UK in all the stores including all the new covers.
The video game is now available on Asda Stores Ltd., Tesco, and Sainsbury's.
Ad blocker interference detected!
Wikia is a free-to-use site that makes money from advertising. We have a modified experience for viewers using ad blockers

Wikia is not accessible if you've made further modifications. Remove the custom ad blocker rule(s) and the page will load as expected.