Dexter Detention
Season 2, Episode 19c

Air date
November 19, 1997
Storyboard by
Dave Smith & Christopher Battle
Directed by
Rob Renzetti

(Art Direction): Craig McCracken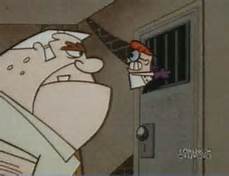 Dexter Detention
is the third part of the 19th episode of season 2 in
Dexter's Laboratory
, the episode first aired on November 19, 1997. In this episode, Dexter has to serve time in detention after one of his classmates constantly asks him for answers on a test.
Notes
Dee Dee, Mom & Dad do not appear in this episode
This is another episode where Dexter isn't in his home nor in his lab.
Trivia
When the Detention Warden looks at his list of names, they include:
Ad blocker interference detected!
Wikia is a free-to-use site that makes money from advertising. We have a modified experience for viewers using ad blockers

Wikia is not accessible if you've made further modifications. Remove the custom ad blocker rule(s) and the page will load as expected.