Dexter Detention
Season 2, Episode 19c

Air date
November 19, 1997
Storyboard by
Dave Smith & Christopher Battle
Directed by
Rob Renzetti

(Art Direction): Craig McCracken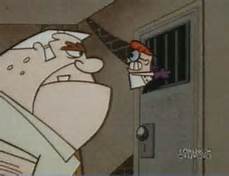 Dexter Detention
is the third part of the 19th episode of season 2 in
Dexter's Laboratory
, the episode first aired on November 19, 1997. In this episode, Dexter has to serve time in detention after one of his classmates constantly asks him for answers on a test.
Notes
Dee Dee, Mom & Dad do not appear in this episode
This is another episode where Dexter isn't in his home nor in his lab.
This episode is the third one to end with the sad reprise of the ending credits. The first one was Way of the Dee Dee and the second one was Germ Warfare.
This episode is considered one of the worst in the series by fans because of the ending where Dexter is sent to prison.
Trivia
When the Detention Warden looks at his list of names, they include: