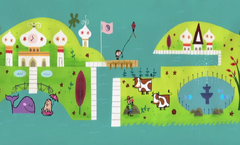 Flowertopia was a village of tree-hugging hippies that was surrounded by nature and tranquility, and where man and beast lived together side by side. It was the birthplace of Mandark and the original home of his parents Windbear and Oceanbird. It first appeared in the episode "A Boy Named Sue".
Ad blocker interference detected!
Wikia is a free-to-use site that makes money from advertising. We have a modified experience for viewers using ad blockers

Wikia is not accessible if you've made further modifications. Remove the custom ad blocker rule(s) and the page will load as expected.