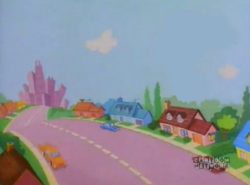 Genius Grove is the name of Dexter and Dee Dee's hometown and the main setting of Dexter's Laboratory.
Locations
Outskirts
In the setting of the game FusionFall, Dexter, his family and Mandark left Genius Grove and moved to Tech Square in downtown Townsville after the Fusion invasion. Genius Grove remains mostly abandoned. Dexter and Mandark's houses can be seen here, although they bear little resemblance to their animated incarnations.
Trivia
Ad blocker interference detected!
Wikia is a free-to-use site that makes money from advertising. We have a modified experience for viewers using ad blockers

Wikia is not accessible if you've made further modifications. Remove the custom ad blocker rule(s) and the page will load as expected.