Global Security
Profile
Occupation
World Protectors
Interests
Keeping the world safe
First Appearance
Magmanamus

Global Security is the world's leading defense organization entrusted with the safety and well being of the planet.
Biography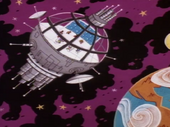 The organization was founded to protect the world from global threats, such as super villains, alien invasions, or anything that poses a threat to Earth. Aside from having many military agents on their side who have a wide range of training in multiple fields, the organization is also affiliated with many superheroes, such as the Justice Friends and Monkey.
Episode Appearances
Dexter's Lab Appearances
The Justice Friends Appearances
Trivia
The organization is likely a reference to S.H.I.E.L.D. from Marvel comics.
Ad blocker interference detected!
Wikia is a free-to-use site that makes money from advertising. We have a modified experience for viewers using ad blockers

Wikia is not accessible if you've made further modifications. Remove the custom ad blocker rule(s) and the page will load as expected.