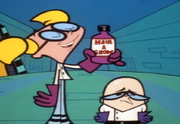 The Hair A Grow is a hair restoring formula created by Dee Dee during the episode "Dexter's Assistant" where she was briefly given super intelligence. It can fully undo hair loss even if the recipient has been left completely bald (even if one's hair was completely burnt off) and the restored hair will be quite long and wavy.
Ad blocker interference detected!
Wikia is a free-to-use site that makes money from advertising. We have a modified experience for viewers using ad blockers

Wikia is not accessible if you've made further modifications. Remove the custom ad blocker rule(s) and the page will load as expected.