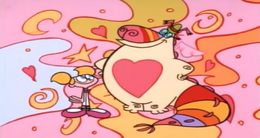 The
Koosalagoopagoop Theme Song
is a song that was sung as the intro of the episode "
Koos A La Goop A Goop
". It is sung by background vocal singers and Koosalagoopagoop himself.
Lyrics
Vocals: In a girl's imagination
Lies an an imaginary creation
He her best friend
She's the only one who sees him
Don't you even try to find him
Koosalagoopagoop: I'm the Koosalagoopagoop
Vocals: Not the Foosalawoopazooop
Koosalagoopagoop: But the Koosalagoopagoop
Vocals: Yeah.