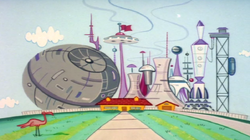 Mandark's House is the house where Mandark, Lalavava, Oceanbird, and Windbear live. It is overly hippie like because of how Oceanbird and Windbear choose to decorate it.
Appearance
Mandark's House is a small yellow adobe with a brown roof and two floors. On the inside it is completely yellow as well.
In seasons 3 and 4, the house is white with a green roof, and its interior is wooden with no wallpaper or painting, with candles and colorful peace sign posters all around.
Behind the house is Mandark's Laboratory which is exceedingly larger than the house and can be seen from afar.
Rooms
Mandark's Lab
Mandark's Room
Living Room
Kitchen
Downstairs Hall
Upstairs Hall
Bathroom
Front Yard
Back Yard
Episode Appearances
Dexter's Rival (Only Outside seen)
Mandarker (Only Outside seen)
Rushmore Rumble (Only Outside seen)
Quackor the Fowl
Let's Save the world you Jerk!
Momdark (Only Outside Seen)
A Boy Named Sue
Mountain Mandark
Babe Sitter
2 Geniuses 2 Gether 4 Ever
Garage Sale
A Mandark Cartoon
Used Ink (Only Outside Seen)
Trivia
The interior of the house was never fully explored until seasons 3 and 4, with only Mandark's bathroom being seen in the original series.
Ad blocker interference detected!
Wikia is a free-to-use site that makes money from advertising. We have a modified experience for viewers using ad blockers

Wikia is not accessible if you've made further modifications. Remove the custom ad blocker rule(s) and the page will load as expected.