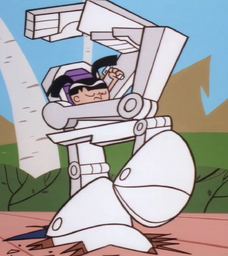 The Mandark-Transformer is a robot suit created by Mandark and is basically a copied and shorter replica of Dexter's Dexo-Transformer with larger feet. It was created for his sister Lalavava to use against Dee Dee in the episode "Dee Dee's Rival".
Appearances
Abilities
Cannon missiles
Super strength
Super speed
Lasers
Ad blocker interference detected!
Wikia is a free-to-use site that makes money from advertising. We have a modified experience for viewers using ad blockers

Wikia is not accessible if you've made further modifications. Remove the custom ad blocker rule(s) and the page will load as expected.