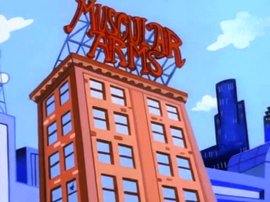 Muscular Arms is a quaint apartment building located somewhere in The City.
Justice Friends Apartment
The Justice Friends Apartment is the home of the Justice Friends' members, Major Glory, Valhallen and The Infraggable Krunk (as well as Rat Man who dwells in the basement).
Rooms
Episode Appearances
Ad blocker interference detected!
Wikia is a free-to-use site that makes money from advertising. We have a modified experience for viewers using ad blockers

Wikia is not accessible if you've made further modifications. Remove the custom ad blocker rule(s) and the page will load as expected.