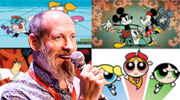 Paul Rudish (born 1968) is an American animator well known for his art, writing, directing, and designs and has worked on some of the most memorable shows on Cartoon Network alongside Genndy Tartakovsky.
Biography
Past
Paul Rudish was born the son of Rich Rudish, a well-known artist who was responsible for creating the character Rainbow Brite for Hallmark and was art director for the 1985 movie Rainbow Brite and the Star Stealer. Paul would eventually follow in his father's footsteps and went into animation as well, studying in the Character Animation program at California Institute of the Arts.
Ad blocker interference detected!
Wikia is a free-to-use site that makes money from advertising. We have a modified experience for viewers using ad blockers

Wikia is not accessible if you've made further modifications. Remove the custom ad blocker rule(s) and the page will load as expected.