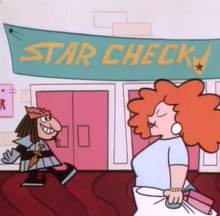 Star Check was a popular science-fiction television program that Dexter, his friends and most nerds are fans of. It was first mentioned in "Star Check Unconventional" where Dexter and his friends tried to attend a Star Check convention.
Premise
The show revolves around the adventures of Space Fleet delegates Captain "Jim" Irk, Chief Science Officer Spork and Ship Surgeon "Skins" McBoy from the Zeta Quadrant on their mission to check out the great big area of unknown stuff known as space for the Galactic Federation while avoiding the wrath of the Hangon Empire.
Appearances
Trivia
Star Check and its characters are a parody of the 1966 television series Star Trek and its main characters Kirk (William Shatner), Spock (Leonard Nimoy) and McCoy (DeForest Kelley).
Ad blocker interference detected!
Wikia is a free-to-use site that makes money from advertising. We have a modified experience for viewers using ad blockers

Wikia is not accessible if you've made further modifications. Remove the custom ad blocker rule(s) and the page will load as expected.