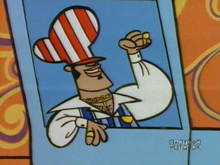 Groove Train is a musical television show that showcases the newest and most hippest dances by rap and hip hop performers and other kinds of dancers. The show first appeared in "Sister's Got a Brand New Bag" where Dee Dee learned a brand new dance while watching it.
Introduction
"Welcome aboard the 'Dance Express', where we'll travel to the four corners of the Boogeyland Trans-Atlantic. And now let's visit our first stop... the spot light dance. Choo Choo...!"
Dances
Moonwalk
Breakdancing
Slap Your Pants
Performers
Many other unknown performers
Trivia
Groove Train is a parody of the formerly long running 1971 musical television show Soul Train.
Ad blocker interference detected!
Wikia is a free-to-use site that makes money from advertising. We have a modified experience for viewers using ad blockers

Wikia is not accessible if you've made further modifications. Remove the custom ad blocker rule(s) and the page will load as expected.