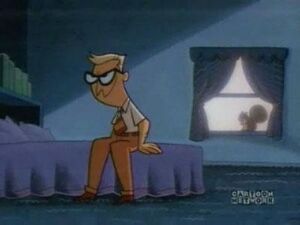 The Muffin King is the eighteenth episode of season 2. In this episode, Dexter and Dee Dee keep Dad away from Mom's muffins.
Plot 
Dexter and Dee-Dee have to keep their father away from their mother's freshly baked muffins while she is out shopping, avoiding all of his tricks.
Characters
Trivia
This is one of a few episodes where Dexter isn't in the lab.
In the Beginning of the episode, Mom acted like Dexter when she is making the muffins while Dad acted like Dee Dee and ruin her cooking.
It is revealed that the reason Dad married Mom is because of those Muffins.