The Muffin King

Season:

2

Season Episode:

18b

Original Airdate:

November 12,1997

Storyboard:

Mike Stern

Art Direction:

Craig McCracken

Directed By:

Genndy Tartakovsky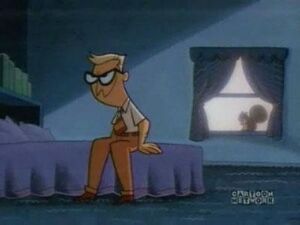 The Muffin King is the second part of the 18th episode in season 2 of Dexter's Laboratory. It originally aired on November 12, 1997. In this episode, Dexter and Dee Dee keep Dad away from Mom's muffins while she goes out shopping.
Plot 
Dexter and Dee-Dee have to keep their father away from their mother's freshly baked muffins while she is out shopping, avoiding all of his tricks.
Characters
Errors
Mom told Dexter and Dee Dee that she's going out the back door. Instead she left out a kitchen door leading to the garage shown in the next few frames. (Cartoon Logic) 
Trivia
The episode name is a reference to the children's song "The Muffin Man," which is vocalized at one point.
This is one of a few episodes where Dexter isn't in the lab.
In the Beginning of the episode, Mom acted like Dexter when she is making the muffins while Dad acted like Dee Dee and ruin her cooking.
It is revealed that part of the reason Dad married Mom is because of those Muffins.
The scene where Dad says to Dexter "I am your father!" and Dexter replies "That is not possible!" is an obvious reference to the famous scene from Star Wars: The Empire Strikes Back when Darth Vader reveals to Luke Skywalker that he is Luke's father. The music that plays during this scene between Dexter and Dad is even similar to Darth Vader's theme music.
In Dad's fantasy, the muffin characters have no problem with ripping and eating pieces of their own bodies, but one of them is bothered when Dad eats part of him.