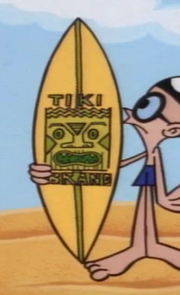 The Tiki Brand is a surf board created by Mandark which he made and named in honor of the Tiki God who restored his confidence. It was made to help him win the surf competition in "Sun, Surf, and Science". It is equipped with several gadgets, such as a jet engine and shackles to keep Mandark's feet secured.
Ad blocker interference detected!
Wikia is a free-to-use site that makes money from advertising. We have a modified experience for viewers using ad blockers

Wikia is not accessible if you've made further modifications. Remove the custom ad blocker rule(s) and the page will load as expected.