Timmy is a genetically enhanced metal-eating termite created by Dexter, for the purpose of eating all of the broken and useless metal components in his lab which Dee Dee would damage during her "rampages".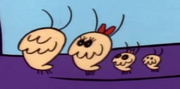 Ad blocker interference detected!
Wikia is a free-to-use site that makes money from advertising. We have a modified experience for viewers using ad blockers

Wikia is not accessible if you've made further modifications. Remove the custom ad blocker rule(s) and the page will load as expected.